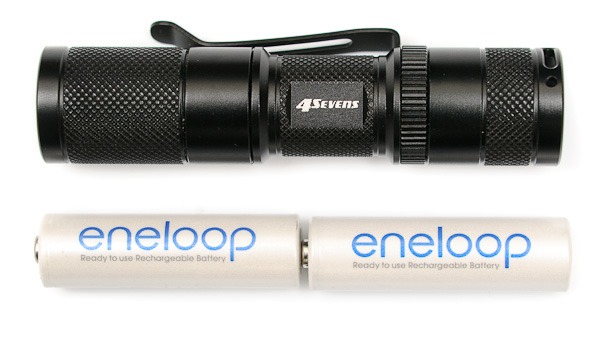 LEDs have been ubiquitous in electronics for years, but it's only in the last several years that LED flashlights have really come into their own. These new generation of torches aren't your standard weak, power-hungry Maglites – they pack super-efficient LEDs that are bright enough to scorch your retina at full power.
As a music photographer, having a pocket-sized flashlight is a great accessory for dark clubs and photo pits, especially when you're groping for gear in the dark. To this end, I recently picked up the Quark AA LED flashlight.
Made from aircraft-grade aluminum with military-spec Type III anodizing for a tough finish, this is one light that's ready for the rigors of rock photography.

Redefining The Flashlight
Quark is a company founded by flashlight geeks. These are people who saw the emerging market of LED flashlights, understood their users, and set out to make a better product.
4Sevens are a group of men and women who eat, sleep, and dream about flashlights. In other words, just the kind of folks who you'd want nerding out to bring you their version of the ultimate torch.
Inside The Box
Just fair warning: The box that 4Sevens's products come in feels like human skin. Just going to put that out there.
The Quark AA includes a good number of accessories – some you'll never use, some of which are more immediately handy (IE, the battery), but all of which add up to a very nice package.
Inside the box, you get:
1x Quark AA flashlight
1x AA battery (Energizer)
1x Finger Grip
2x O-rings (extra)
1x Nylon case w/ belt look
1x Nylon lanyard
Out of all of the accessories, I've found myself using just the case. It's a slightly tight fit for the light, but it's a nice case that'll keep the light protected and warm in a bag or if you want to rock it on your belt.
Design
The design of the Quark AA is solid. Like most flashlights in this class, it's a three-piece design, with a semi-matte anodized finish. If we were talking photo paper, the black anodized finish is about a lustre grade. Knurling on the three segments keeps the light grippy without ever being rough.
One really interesting aspect of the Quark AA and AA² series is that the parts are essentially modular between the flash head, body tube, and the tailcap. So, if you wanted to turn your Quark AA into a two-AA capacity light instead, you would just need to buy the longer AA² body tube.
Tailcap
The tailcap of the regular Quark AA features a reverse push-button switch, which is guarded by a rim. This rim makes it possible to stand the Quark AA up on the back end – a handy feature if you ever need to put the light down and bounce the beam off the ceiling.
Due to the modular nature of the design, you can also swap out the tailcap for a "tactical" version of the light that doesn't have this rim and features a regular push-button switch. This tactical tailcap button would allow you to depress the switch without fully engaging the button for momentary-on functionality.
Flashlight Head
The flashlight head of the Quark AA features a reflector with a subtly dimpled texture, which provides a nice, smooth beam pattern.
Looking down the reflector in the image below, you can see the small GREE XP-G R5 LED module. Considering how much light this little torch puts out, it's amazing to see this tiny LED staring back, especially considering the size of standard flashlight bulbs that put out a tiny fraction of the light.
I should note that the R5 model I have is a late 2010 model. The new 2011 models that are shipping have the new S2 LED emitter.
Battery Compartment
The Quark AA is driven by just one AA battery. For any speedlight photographer, you're in luck, because the Quark AA is a beautiful for long-lasting batteries like the Sanyo Eneloop batteries that so many of us use for small flashes.
Beam Pattern
Just to give you an idea of the beam pattern for a light like this, here's a shot of the Quark AA's beam over in profile:
As you can see, it's actually relatively narrow – much more so than the flashlights most of us are used to, which have a more diffuse (and enormously weaker) beam.
The above image also illustrates that while the beam spot is relatively narrow, there's an outer element of flooding light that is much weaker, which you can see by how quickly the outer part of the beam falls off in relation to the main spot.
In practice, this tighter beam pattern makes the Quark AA a great task light for rooting through a camera bag and really penetrating darkness.
Operation & User Interface
I know what you're thinking. A flashlight with a "user interface? It's a flashlight, not software." Of course, this is no ordinary flashlight – the Quark AA Regular features several modes with a micro-processor for precise control. No, really.
First, there are two primary modes that are adjusted by either having the flash head completely tightened or loosened a quarter turn.
With the head loosened, you're able to access five modes:
Moonlight (0.2 lumens, 10-day runtime)
Low (4 lumens, 2-day runtime)
Medium (22  lumens, 6-hour runtime)
High (85 lumens, 1.5-hour runtime)
S.O.S. (109 lumens pulse, 18-hour runtime)
It's possible to cycle through these modes with half-presses of the tailcap button. The four brightness levels are a great touch, as they allow you to choose an appropriate level of light for any given task, particularly if you're interested in conserving battery power.
One feature I love about the Quark AA is the super low "moonlight" mode, which throttles down to a minuscule amount of light that's prefect for keeping your nightvision or for non-disruptive task lighting.
The other main mode of the Quark AA is with the head completely tightened, which includes two settings:
Maximum (109 lumens, 1.2-hour runtime)
Strobe (109 lumens, 2.5-hour runtime)
Again, a half-press of the tail button will cycle through these. The maximum level is super bright and immediately useful for full-power use – the strobe mode is 100% useless for me.
I take that back – it might work out alright at a Girl Talk show or a rave.

Summary
There you have it. The Quark AA LED flashlight. If you're looking for a tough torch for your camera bag, I don't think you can go wrong with the Quark AA.
For photographers, everything is about light. Normally, it's the capture of it, but for anyone who shoots and works on location, having available light can take on a whole new meaning. Not just for your subject, but simply for working with your gear. Anyone who has used their cell phone to plumb the depths surely knows what I'm talking about here.
Whether you're a music photographer who may be groping around in a dark photo pit or a landscape photographer who's out at dawn and dusk chasing that sweet light, the Quark AA means always having a light available.
You can grab the Quark AA at Amazon.com.
Simply clicking through either B&H or Amazon.com here for your purchases helps me bring you free content like these 6-tips for the new concert photographer, and naturally it doesn't cost you a cent more. If you do grab some gear, drop me a line! I'd love to hear about what you picked up.